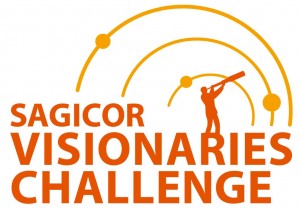 The Sagicor Visionaries Challenge aims to promote sustainable Caribbean communities through innovation in science, technology, engineering and mathematics (STEM). It asks secondary school students in the Caribbean to identify a challenge facing their school and or community, propose a sustainable and innovative solution, and show how that solution uses STEM?
The emphasis on STEM comes from the fact that roughly two thirds of the ~150,000 secondary school students in the Caribbean show poor competence in the required general mathematics examination. While performance in the sciences is much better, less than 20% of the eligible students even take these subjects.
This challenge was conceived, implemented & sponsored by the Caribbean Science Foundation (CSF), the Caribbean Examinations Council (CXC), and Sagicor in partnership with Ministries of Education in twelve different Caribbean countries.
Teacher and student sensitization workshops were organized in each country. A teacher then entered teams of students into the competition via a 250 word summary of their project idea. The public voted online for their favorite projects, contributing to a percentage of the overall assessment. The teams then competed at national competitions and the winning team represented their country at the regional competition held in Barbados. Teachers supervised the student projects with support from mentors who were either local or virtual.
Prizes included Vernier Labquest data collection systems with 16 probes for use in physics, chemistry and biology along with UNESCO mini science kits, and $11,000 cash.
The winning teacher and student leader from each country then spent 7 days in a STEM Ambassador program at the Museum of Science and Industry (MOSI) in Tampa, FL from July 21-27th, 2013. The visionaries team developed this ambassador program in conjunction with MOSI's education staff. It includes visits to the Kennedy Space Center, Disney's EPCOT center, Crystal Springs, and hands on activities that explore wetlands, water resources management, nanoscience, renewable energy, robotics, and space exploration. The program includes visits the University of South Florida's College of Engineering and an intensive training workshop with Vernier technicians.
For more information, check out:
The Sagicor Visionaries website
The Sagicor Visionaries FB page